Netizens - Mobile Websites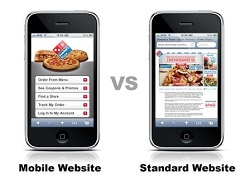 Most businesses have a website ( if you don't, contact us straight away for help), but is yours mobile friendly ? Google have now changed their algorithm to give priority to mobile friendly websites. If yours isn't, then you will drop down googles listings. .
Standard Mobile Package
We translate your existing website into a mobile friendly version
We show you the mobile version
NO UPFRONT FEES, NO WEB DESIGN FEES
If you are happy, you just pay £14.00 / month.
If you update your website, we will, within reason, update the mobile version for free
What websites can we make mobile ?
We can translate most websites, including eCommerce websites. Some more complicated websites will cost slightly more per month. We will advise you before proceeding. As a rule of thumb, if your website is purely an advertising site, with under 20 pages, we can make it mobile for £14 / month
How long does it take ?
We can have a demonstration version of your website ready within 5 days normally
That sounds great, how do I sign up ?
Give us a call on 01727-859960 and we will set the ball rolling !
.